Step 5: Choosing The Best Dating Affairs Profile Pic
Creating a dating affairs profile doesn't have to be complicated, but you need to choose a great photo to truthfully represent yourself and who you are. Obviously you want to have a photo that makes you look good, but there are other things involved in photos that you need to be aware of before you post them. These are things that you've probably noticed in other people's pictures, but haven't checked in your own. You don't need just a great picture of your face, you have to make sure everything else in that photo is up to par too. Here's how to pick the best dating affairs profile photo.
Have Your Face Visible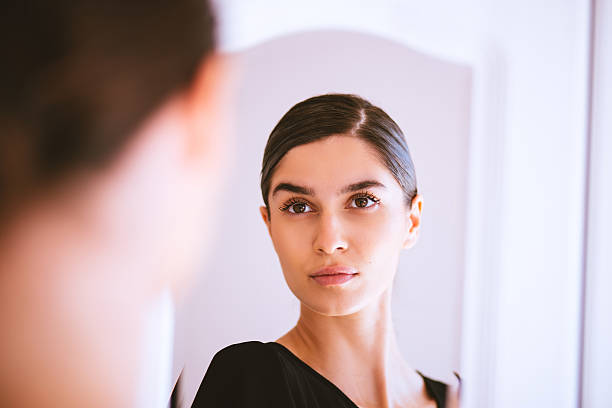 This is a no brainer, but you have to show your face if you want anyone to show interest in you or your profile. It's tempting to hide part of your face on a dating site, especially a dating affairs site, but rest assured that your privacy is secure. Only other members can see your profile and your photos, so anyone who would see them is there for the same thing you are. Discretion with your appearance isn't the best approach to profile photos if you actually want to see results, so have your face showing as much as you can. Interested people will make decisions on whether or not to contact you by if they find you attractive, and they can't tell what you look like if they can't see your face.
Choose A Flattering Angle
When you're taking your photo or choosing one to upload, pick one that shows you in a flattering way. Some angles are just extremely unflattering for everyone, so these are ones that you want to avoid at all costs. Never take a photo from below your chin, it doesn't look good for anyone, and almost always adds an extra chin. Taking a picture from straight-on is probably your best option for a dating affairs profile photo, because it allows other members to actually see your whole face and what you look like. Don't use different angles to try and misrepresent yourself though – this defeats the purpose of trying to have an accurate photo. If you think one angle makes you look thinner, but it makes you look much thinner than you really are, that's misrepresentation. Be proud of how to look and who you are, and choose profile photos that show that.
Good Lighting
Make sure your photo isn't too dark, or too overexposed. Lighting on either side of the spectrum is bad, so try and keep your photos properly lit. This simply means turning on lights in the room where you're taking your picture. Having a photo that's too dark hides too many things. You want the people who are looking at your photo to be able see you, and if it's too dark, then that's very hard to do properly. On the other end, if your picture is too overexposed and bright, then it also hides things, and makes it difficult to make out the photo properly. You don't need to have professional lighting by any means, and it would be suspect if you did, but you do want to ensure that your photos aren't too dark or too light, and that everything in the photo is clearly visible.
No Filters On Your Dating Affairs Profile Photo
Don't filters or distortions of any kind in your profile photo. Using these things makes it look like you have something to hide. Using apps or anything that alters your appearance is misleading, and makes you look untrustworthy because you're misrepresenting yourself. Your profile photo is the first thing that prospective dating affairs partners will see, and if it's obvious that you've done something to the picture that changes how you look or anything at all, that leaves a negative impression. If you want to edit anything in your picture than edit out red eye or something that's in the background, and that's about it. Never change your appearance with any tricks to try and make yourself look better, it's better to just try and take a picture with good lighting.
Be Mindful Of Background
Are there dirty dishes in the background? Are you taking a picture from a bathroom mirror? Always check what's around you before you upload or take a picture. You don't want prospective dating affairs partners to see your dirty laundry or messy living room. Don't make yourself look like a slob. Clean up before you take photos, or choose somewhere that doesn't show much behind you. So many people forget about these details, and what's shown in the background of a profile photo can be very telling. The last thing you want is that have drug paraphernalia or junk in the picture with you when you're trying to attractive a dating affairs partner. They don't want to deal with someone who can't even be bothered to tidy up after themselves, or who has no issue with being seen as a sloppy person. Avoid these misconceptions by taking note of what's going to end up in the picture with you. This includes kids. If you're taking a sexy photo in a mirror, the illusion is shattered if your child is in the background of that photo. Keep those things private from your kids, or at least don't let potential partners know that you don't care if your kid sees you like that.
Find a legit dating affair site by reading some reviews, and see what the next step is, here: